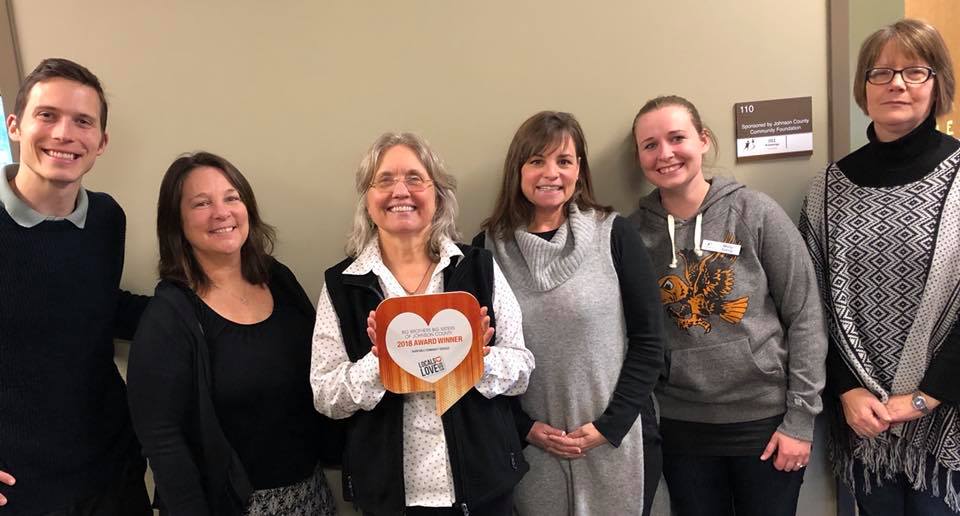 Big Brothers Big Sisters of Johnson County staff accept the 2018 Locals Love Us Award.
For the second year in a row, community members have voted Big Brothers Big Sisters of Johnson County as a favorite local service organization!
BBBS of JC earned a top-5 spot in 2018's Best Charitable/Community Services in Iowa City, thanks to votes from 1,700 friends like you who cast over 30,000 votes. This win helps us grow awareness of our mission via the 50,000 print guides distributed locally, to further help children facing adversity. So if you voted – thank you!
Locals Love Us Iowa City is spearheaded by Ryan Bell, an awesome volunteer Big Brother himself. Ryan franchised Locals Love Us Iowa City in just the last couple years and has used it to help better connect the community in positive ways. We are so appreciative of his energy and impact as a partner in making our community a better place to live.
On behalf of our Board, volunteer mentors, families and youth – thank you to our friends in eastern Iowa! And a big shout-out to the other top-5 charitable/service winners: Crisis Center of Johnson County, Friends of the Animal Center Foundation, Goodwill, and UI Dance Marathon. These are all outstanding organizations with incredible missions and we are very grateful to be honored alongside them.
You can learn more about Locals Love Us – and frequently win gift certificates to great local businesses! – by liking and following their Facebook page. (Don't forget to like and follows ours too, if you haven't already!)
Locals Love Us… and we love you right back, neighbors! Find out more at their website about the impact Locals Love Us is helping Big Brothers Big Sisters to make!