Big impact—proven results
We've always known we were making a positive impact on children and empowering them to succeed. A nationwide study confirmed it for us.
The Big Brothers Big Sisters Match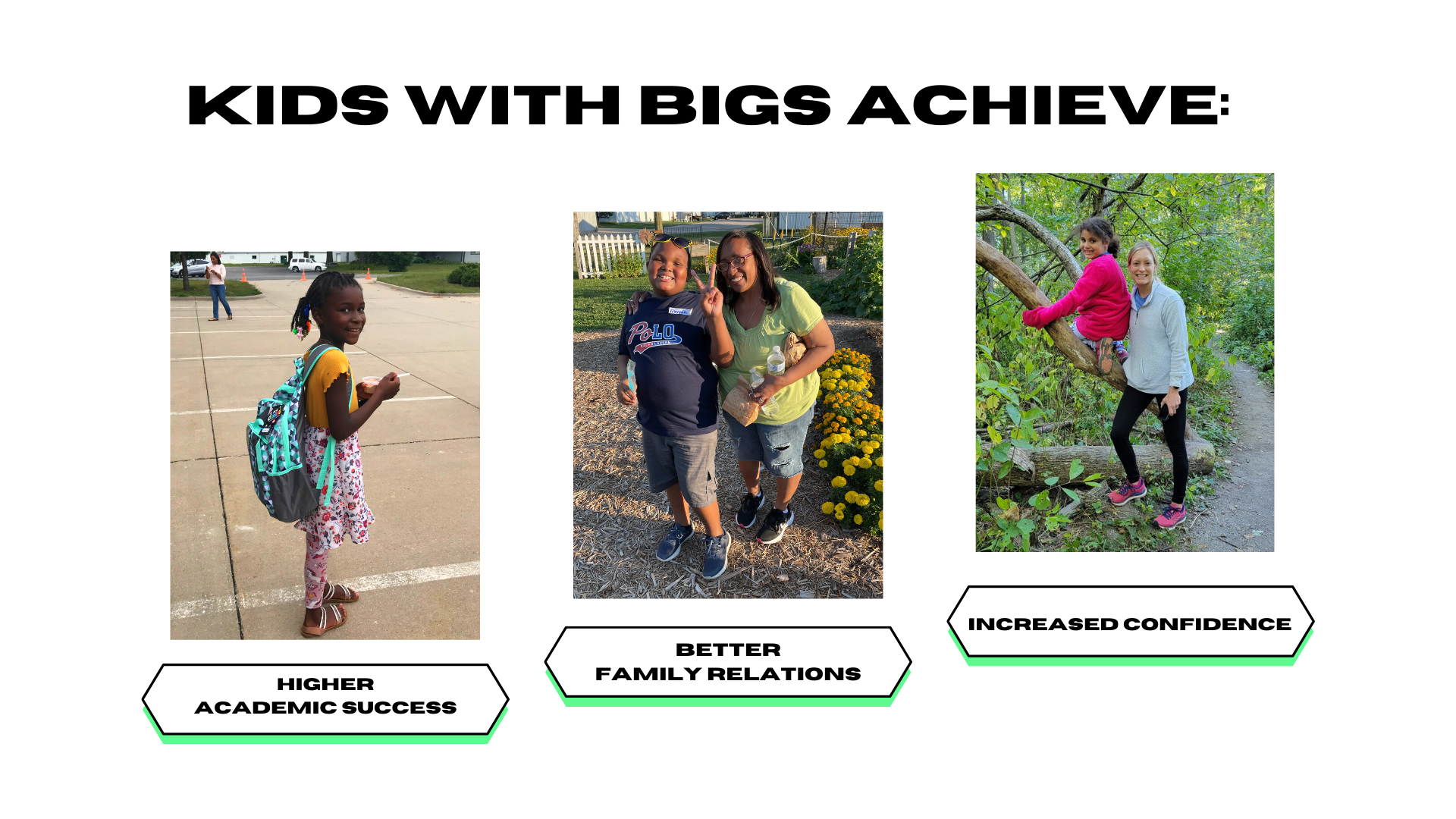 According to the Public/Private Ventures (P/PV) study, our one-to-one matches truly make an impact in children's lives. A Big Brothers Big Sisters' match is carefully administered and held to the strictest standards. Agencies strive for matches that are not only safe and well suited to each child's needs, but also harmonious and built to last.
But we are much more than just matchmakers. We provide ongoing support and supervision to the Big, the Little, and the Little's family. We offer training and advice to help ensure that the match is working for everyone involved. And our local agencies even receive their own ongoing training and consulting from the Big Brothers Big Sisters National Office. This web of support helps maximize the likelihood that a Big Brothers Big Sisters relationship will thrive.
Measuring our Impact

We studied the effects of our program in the following categories: Social Acceptance, Scholastic Competency, Educational Expectations, Grades, Risk Attitudes, Parental Trust, Truancy, Special Adult and Juvenile Justice
 Big Brothers Big Sisters believes that it must hold itself accountable to the families, children, and mentors enrolled in our program. We must hold ourselves accountable to the donors, partners, and advocates who fund our work. That is why a commitment to continuous learning, improvement, and research is at the heart of what we do.
Continuous learning through technology
We are committed to measuring, analyzing, and continually improving. To assist with this, we use a unique, proprietary tool to track key Big-Little metrics. Known as MatchForce (MF), this performance management tool helps guide the decisions of our network of professionally trained staff members. Built to support Big Brothers Big Sisters, MF provides the intelligence and data to continually improve our services to children.
Continuous learning through partnerships
Through the generous support of corporations, foundations, and donations, Big Brothers Big Sisters regularly participates in nationwide or local research opportunities. The most recent largescale study was led by the University of Illinois-Chicago's Institute for Health Research & Policy. It surveyed more than 1,300 youth participants and used the gold standard of research: a randomized controlled trial, funded by Arnold Ventures. The study found that youth matched with a Big - the BBBS group - are:
54% less likely to be arrested (4.9% BBBS vs 10.7% control) and
41% less likely to use substances (10.1% BBBS vs 17.2% control).

Furthermore, the BBBS group showed statistically significant gains in self-control, social skills, grit (persistence towards goals), self-advocacy, family functioning, school engagement, hopefulness about the future, likelihood of visiting a college, and a reduction in aggressive behavior. The final report is due out in 2024 and will include findings from a four-year survey about the impact of educational attainment.
Research About Big Brothers Big Sisters Programs
Impact on Self-Confidence
One-on-one attention from a caring adult role model is a key part of developing self-confidence, and research shows that Bigs help Littles feel more confident in several areas.
Impact on Education
Evidence shows that being matched through Big Brothers Big Sisters can make a big difference in how a child performs in school and how he or she feels about school in general.
Impact on Juvenile Justice 
Many children get swept up into what their peers are doing, but research shows that having another caring adult on their side helps Littles make good decisions and avoid risky behaviors.