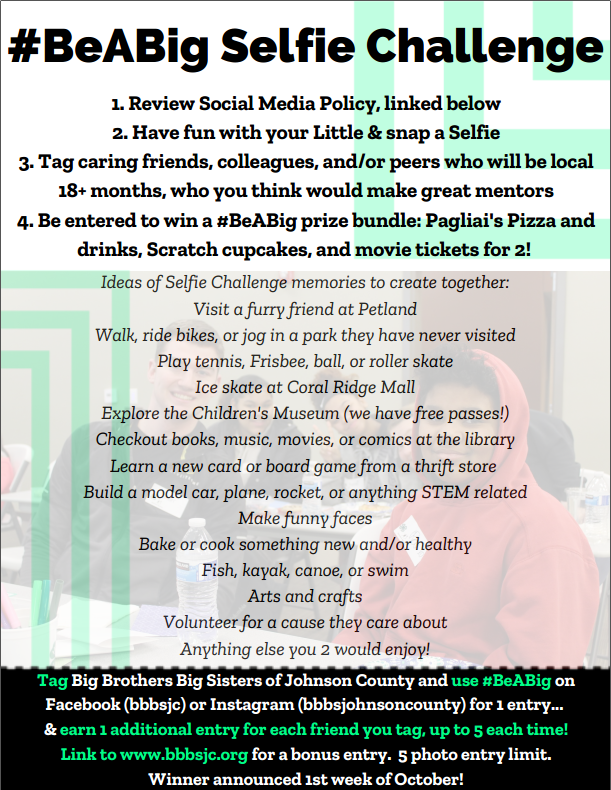 If you could pick only one, would you:
A) have an awesome time with your Little,
B) help end the wait for another boy or girl who wants a volunteer Big,
C) increase the community's awareness and support of Big Brothers Big Sisters,
Or D) win a tasty prize package?
Tough choice, right? Great news… for just the next four weeks, you can get them all in one fell swoop!
1st, review our Big Brothers Big Sisters of Johnson County Social Media Policy (which spells out important safety information like not sharing identifying information of your Little, making sure their parent/guardian is on board, etc.).
Then follow the instructions in the image, and post pictures or videos to Instagram and/or Facebook to be eligible to win! Not on Facebook or Instagram? No worries. Let us know who you personally contacted about the opportunity to become a Big, and we will add you to the list of prize eligible participants.
Thank you so much for helping us make our community a more connected, happy, and successful place for kids and adults both. We love being partners with you!
Sincerely,
Big Brothers Big Sisters of Johnson County
P.S. If you would like an extra follow on Instagram (@bbbsjohnsoncounty), reply to this e-mail with your username; we'll be happy to help!