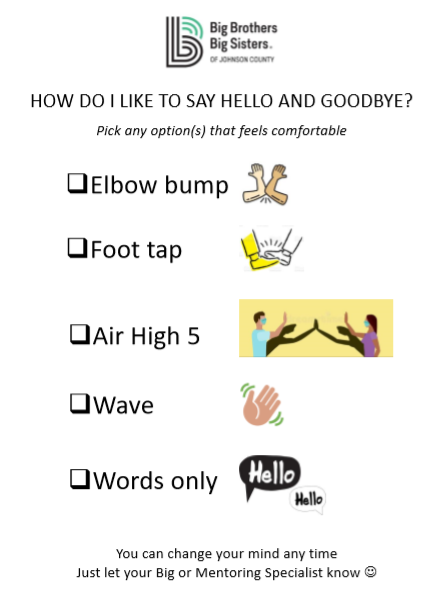 Dear Friends,
Big Brothers and Sisters are achievers, difference-makers, and busy. Therefore, we offer these bite-sized Big Tips to help grow your knowledge and impact as a volunteer Big Brother/Sister for your Little.
Did you know…
We have welcomed three new team members! Marcelina Ceniceros, Addie Martinez, and Halle Phillips each bring unique strengths and experiences that are already strengthening our agency. We are thrilled to partner with them. Read a little about each here; thank you in advance for making them feel welcome at events and in your communications!
We take full-length trainings and get you the highlights. We share these Training Takeaways on our YouTube channel. Recently Dina Bishara shared her tips from a Trauma-Informed Mentoring training, including 5 Healing Gestures caring adults can leverage to help young people.
September is Hispanic Heritage Month. Whether you or your Little are Hispanic or not, it's a perfect time to help them learn about our Hispanic neighbors, and/or to do something nice for someone of Hispanic heritage in your neighborhood.
September is also Recovery month. Addie Martinez & Kristen Elting share what language you should use to support recovery, and what doesn't help.
Big Brothers Big Sisters has a blog. We post about topics that help our matches thrive – how to help kids cope with stress, how to connect better with youth, and much more. Bookmark our blog here.
Big Brothers Big Sisters has a mobile app! It is very new, so we are looking for Bigs and Littles willing to try it out and report back about their experience – cool features, challenges, etc. If you are interested, let your Mentoring Specialist know. Bigs who participate get double their usual stipend. ;D
How do you say hello and goodbye while keeping 6+ feet apart? Pictured are some ideas. Understand your Little's ideas of what is comfortable will likely change with circumstances. Feel free to create your own fun greeting together, post it on social media (with approval of Little and parent/guardian), and tag us!
Thank you for reading these Big Tips to become a better-informed and better-equipped mentor! Keep in touch with how things are going, and how we can support you in an awesome friendship.
Sincerely, your ally,
Big Brothers Big Sisters of Johnson County